Documents and Privacy
---
How do I download or print a document that you sent me?
You will find the requested document(s) attached to the email you receive from us. Simply click on the document and save it to your device. Once downloaded, you can print it using your home printer, or if you don't have one at home, at any shop that offers a printing service. In case you need any further assistance, please ask your network administrator.
---
What is a Conditional Fee Agreement (CFA) and how do I sign it?
The Conditional Fee Agreement (CFA) is a document that grants AirHelp the power to represent you in court in the UK. We need it to claim compensation from the airline, and collect it on your behalf. After all, we cannot work on your claim without your permission.
How to sign: This document can be signed online via a tool called HelloSign. We'll send you a link that will allow you to fill in all the required fields, and sign it on a computer. Alternatively, you can print out the form and sign it. Then you just need to upload a scan or photo of the signed document.
---
How do I sign a Power of Attorney (PoA) or a Conditional Fee Agreement correctly?
It's easy! We will send you a copy of the documents that need to be signed — some will need to be signed by hand, but if possible, we will also give you the option to sign it digitally. Please make sure that the document is complete and readable. Each field must be filled out correctly, and the document must be free of any cuts, edits, or blurring.
---
What is a Power of Attorney and why do you need it?
The Power of Attorney (POA) is a legal document that grants AirHelp the power to represent you in court and to initiate legal proceedings against the airline. Without it, we won't be able to represent you as we always need your express permission to do so.
The POA can be given different names such as 'Conditional Fee Agreement', 'Certificate of Authorization', or 'Special Assignment Form', depending on the jurisdiction.
Please read the entire document carefully, fill in all the required fields, and sign it by hand.
Note that a Conditional Fee Agreement can be signed either by hand or electronically – a link to sign online will be sent to you.
---
My Customer Dashboard shows that you received my document. Why do you keep requesting it?
This issue can happen from time to time. When you receive a second request for a document, it usually means that there was an issue with the original document you provided.
It could be that the documents weren't in the correct format and we couldn't open them, or that the information on the documents wasn't clearly visible.
Note that if you have sent the documents to us via email or chat, it can take a while for these documents to show on our system. To ensure your claim is processed quickly, always upload documents to your dashboard.
If you are still receiving multiple requests from us even after resubmitting your documents, please head over to our Contact Form or Live Chat. Our experts can help you resolve the issue.
---
I can't login, what can I do?
If you are having trouble logging in, you can try resetting your password by following this link. You will receive instructions to reset your password via email.
In case you are still having problems logging in, you can contact customer support via our LiveChat.
---
Why do you need a copy of my ID or Passport?
We only request a copy of a personal identification document in order to meet a requirement of a third party involved in the claim process. For example, the airlines and/or courts.
Some airlines need ID to validate the authenticity of the Assignment Form, while courts need it to validate the power of attorney.
At AirHelp, we take your privacy very seriously and all personal data is stored securely. We will never share it with any third parties other than the operating airlines and the judicial bodies (where applicable) without your prior explicit consent. We are also compliant with all the EU data protection regulations, including the General Data Protection Regulation (GDPR).
You can read more about AirHelp Privacy Policy here.
---
What happens to my documents once you have them? Are they secure?
We take your privacy very seriously. Therefore, we would like to assure you that our data protection policy on the processing, sharing, and storing of personal information is fully compliant with all EU data protection regulations, including the General Data Protection Regulation (GDPR).
You can read more about the AirHelp Privacy Policy here.
---
What is a flight confirmation and where can I find it?
Your flight confirmation is the written confirmation that you were a passenger on the flight in question. It may also be referred to as a 'Booking Confirmation Document' or 'e-ticket'. It will contain your booking reference number, passenger details and flight details.
You can find your flight confirmation in the emails or documents the airline (or travel agency) provided when you purchased the flight.
---
What's a booking reference and how can I find it?
A booking reference is a unique code used by the airline to identify your reservation on their systems. It can be found on your booking confirmation email and e-ticket. It may appear under different names such as 'booking reference', 'reservation reference', 'booking code', or 'PNR' (Passenger Name Record).
In case of any doubt, just upload your booking confirmation and our experts will identify the correct booking reference.
---
What is a "rerouting confirmation" and where can I find it?
If you experience a flight cancellation or your flight is overbooked, the airline should offer you an alternative flight. They may also refer to this as a rerouting to your final destination.
The rerouting confirmation can be an email, or SMS, sent by the airline informing you about your flight disruption and offering an alternative flight. It will often include the e-ticket or boarding pass for that flight.
---
I don't have my e-ticket/boarding pass anymore, what do I do?
E-ticket: Your e-ticket should have been emailed to the address you provided when you booked your flight. So unless you know you've deleted it, you should still have a copy of it in your email. Try searching for the airline's name in your inboxes and your trash folder.
If you can't find it, you can try downloading your e-ticket again after logging into the airline's website, or contacting your airline's customer support and asking for a copy.
Boarding pass: Certain airlines and courts require a boarding pass in order to process your claim. If you're no longer able to download a copy of it by logging into your airline's website, please contact the airline directly (or the Online Travel Agency you used to book the flight). Ask for a Boarding Certificate, which is equivalent to a boarding pass and can legally be used to process your case.
---
Who should sign documents on behalf of minors?
If your claim includes a passenger who is under the age of 18, all documents will need to be signed by a parent or legal guardian on their behalf.
The parent or guardian should add the following annotation alongside their signature: "on behalf of [child's name]".
Some documents must be signed by both parents — we understand this isn't always possible. In this case, please contact our friendly customer support via our Live Chat so our experts can help you find a solution.
---
You asked me to send some documents - how do I do that?
It's easy! After filing a claim with AirHelp, we will get in touch with you and ask you to upload some documents relating to your disrupted flight. Just click on the link provided and follow the onscreen instructions, which should look something like this:
Log in to your Customer Dashboard.

Click on the 'Add Documents' button and select the files you want to add from your computer.

When you are done uploading all of the documents, click on the 'Submit Now' button.
Please note: the Customer Dashboard supports PNG, JPEG and PDF formats only.
Once the upload is complete you can see the names of the documents we have received from you under the 'Uploaded documents' header. You can also check if there are any documents we still need under the 'Additional documentation needed' header as shown below.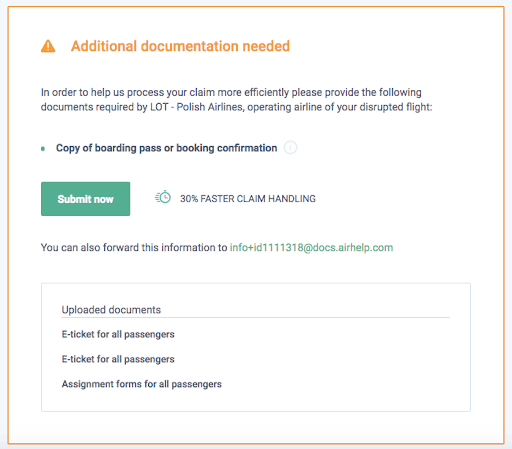 Note that some documents may require your hand-written, scanned signature. Please check the relevant instructions we send you via email.
---
Why are you asking me for so much information?
We understand filling in forms and finding documents is a hassle – so we'll keep your paperwork to a minimum by only asking you for the information that is essential to your claim.
Depending on the airline and the court jurisdiction, the paperwork required may differ – and some claims do require multiple documents. But don't worry — your privacy is important to us, and we never share your personal information outside of the relevant parties, in accordance with GDPR. You can read our full privacy statement here.
If you find yourself stuck or have any questions regarding the documentation you need to provide, our customer support team will be happy to assist you via our LiveChat.
---
Can I change my email address?
Of course. The AirHelp Team can update your contact details for you at any time.
To update your email address, telephone number, or home address simply log in to your Customer Dashboard and fill out our Contact Form. Make sure you select the 'Update passenger details' option, so we can process your request faster.
Alternatively, you can contact our friendly customer support via our Live Chat.
---
How can I delete my account?
We'll be very sorry to see you go, but respect your decision. If you ever experience a flight disruption in the future, you know where to find us.
To delete your account follow these steps:
Head to your Customer Dashboard and click on 'Contact Us'

In the 'Why are you contacting us?' box select 'Account and Privacy'

Scroll down and choose 'Please delete my account from your system.'
Your account details and any data we have stored will be completely removed from our database within 30 days from your request.
---
Do you share my information with others?
During the claims process, we need to share certain information with third parties, for example, airlines or lawyers. Your data is only shared with third parties whose job is to bring your claim to its conclusion.
We never share any of your details with a third party not involved in the claim process. If you are at all concerned about this matter, you can read the full details in our Privacy Policy.
---
What happens to my documents once you have them? Is it secure?
We take your privacy very seriously. Therefore, we would like to assure you that our data protection policy on the processing, sharing, and storing of personal information is fully compliant with all EU data protection regulations, including the General Data Protection Regulation (GDPR).
You can read more about AirHelp Privacy Policy here.
---
Why does AirHelp need documents such as an e-ticket or ID?
Flight documents allow us to confirm your flight details. They are also required by third parties such as airlines and the court, who may ask for your boarding pass as proof that you checked in or boarded the plane, for example.
---
Why does AirHelp need an Assignment Form?
We ask for an assignment form because it allows us to legally enforce the claim, without exposing you to any cost risk. AirHelp will cover all costs incurred in the course of the proceedings.
If you are the main claimant, you will be asked to sign this agreement during the claim submission process. If you are also claiming for others on the same booking, we will also ask each of them to sign a separate assignment form.
---
What documents do I need to provide to claim compensation for a delayed or canceled flight?
We will give a list of documents you'll need to provide when you submit a claim with AirHelp.
Some of the documents that we'll ask for may include:
Proof of address — for example: bank statements, utility bills, etc.

Booking confirmation — any document that contains your flight itinerary, passenger name and booking reference (PNR) or e-ticket number.

ID or passport.

Time of arrival at final destination and delay confirmation.

Assignment Contract or Proxy — we will ask you to sign a document so that we can work on your claim on your behalf. In Europe it is called an Assignment Contract, and in Brazil it's called a Proxy. For eligible flights in Brazil, Brazilian citizens will be asked to include their Cadastro de Pessoas Físicas (CPF), and non-Brazilian citizens their passport/ID number.
Additionally, we may need:
Alternative flight confirmation — in cases where your flight was canceled or you had a missed connection.

Property Irregularity Report — for luggage claims we need a copy of this document, plus any additional information on when the luggage arrived, and photos of the damaged luggage, if applicable.